What is A.M.A?

A.M.A. is a nonprofit organisation founded to help those workers newly arrived to Luxembourg who are in specially difficult economic or distress situations.
Part of A.M.A.'s activities is aimed at helping people who have come from Spain, be they Spanish by birth, been naturalised, or in possession of a work permit after years working in Spain. That said, A.M.A. provides support to anyone in Luxembourg who asks for help, regardless of nationality, origin or personal situation.
A.M.A was registered on 19 November 2015 in the Registre de Commerce et Societés de Luxembourg under No: F10588 L150209396
It is also involved in developing projects to help in the integration and well-being of recently arrived refugees.
It is a non-religious association that guarantees and respects the freedom of thought of its members. It is strictly politically independent.
---
Our objectives
To build a network of people to help recently-arrived Spanish-speaking workers. These migrants, who have gained valuable experiences from their situation, will be encouraged to gather and share their practical know-how so as to improve their living conditions.
To organise, via social, cultural, artistic and sporting activities, any initiative that encourages collaboration between Luxembourg nationals and recently-arrived workers, with a view to allowing the latter to integrate in Luxembourg.
To widen contacts by means of introductions to other organisations and to Luxembourg nationals. The association will develop various areas of activity and will involve migrants in these activities.
SHARE knowledge between migrants and Luxembourg resident's in order to assist their entry in the Luxembourg labour market in the best possible conditions, as well as improve their professional practices via a support network
To fight against the stigmatisation of migrants.
---
Our values
A.M.A. is based wholly on volunteer work and collaboration between migrants and volunteers alike, pooling skills in a joint desire to help those who have recently arrived in Luxembourg and find themselves in difficulty.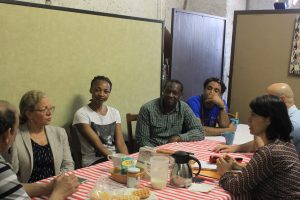 A.M.A receives help from social workers, lawyers, IT specialists, teachers, tax advisors, civil servants, economists, photographers, artists, designers, auditors, accountants, translators, plumbers, labourers, early learning assistants, etc. who all work on a voluntary basis. It currently has a network of around 40 collaborators and 60 recently-arrived workers in varying situations of social and labour integration.
A.M.A's finances currently come from membership fees (15%), donations (25%) and fundraising events (60%).
AMA's funds are used in their entirety to help people in need. The money is distributed as follows: 50% in loans for housing, training or transport, 20% for the purchase of food and other goods, 20% for participation in fundraising events, and 10% in other forms of assistance. A significant part of the funds is currently being used to provide deposits for the rental of housing.
---
Reuse of resources
A basic principle of the association is to avoid the waste of resources. We prevent waste first and foremost through our stock of clothes and other goods, and also via our food bank. We collect clothes, toys, cooking equipment, etc. that could be put to good use by those who need it. Food can also be donated to our food bank at the English speaking community's church (Saint Alphonse) or the Spanish-speaking community's church (Franciscans).
For more specific items, such as bicycles, pushchairs, luggage or furniture, we first identify what is needed and then launch a call for assistance via our network of contacts. We almost always find what we are looking for.
From time to time we organise flea markets to sell off items we have received but have not been needed by the people we help.
Above all, the association encourages the best use of the skills of all those with whom it works, including volunteers and recently-arrived workers who find themselves in difficulties. We make great use of the vast source of know-how and experience of all our partners for the benefit of all. A.M.A. incurs no expenses whatsoever in their use of this experience.