Coffee and solidarity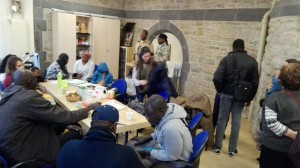 Our coffee mornings provide a chance for migrants and A.M.A. volunteers to talk in a relaxed environment, share common ground, exchange advice, and allow us to identify how we can help. It is also a wonderful opportunity for people to get to know each other, share experiences and create a network for mutual collaboration. All of this happens over a breakfast in good company. The coffee mornings allow us to give one-to-one attention to those who need it, because we are well aware how circumstances differ from person to person.
Mondays and Thursdays fron 9:30 to 13:00 in the Limpertsberg Parish premises
For Manos Abiertas every person is a new project.
---
One-to-one sessions to provide advice and identify needs and ways of helping
In tandem with the coffee mornings, volunteers from Manos Abiertas chat with the people in need in order to identify how best to help them. We organise one-to-one sessions to examine every individual case. Our association goes to great lengths to provide the help needed in each individual case: helping with paperwork; giving advice on tax returns; requests for legal advice for situations relating to non-nationals; mobilising our network of volunteers to provide clothing, electrical household goods, furniture and other items; providing support in job searches and the search for housing and schooling; providing ad hoc childcare for working parents, etc.
---
Financial aid
Manos Abiertas has a small budget that comes from membership fees, donations and fundraising at various events where it is represented. The funds can be used to provide loans with very favourable conditions for rents, transport, skills training, etc. The one to one sessions help identify needs and assess the feasibility of this assistance.
---
French classes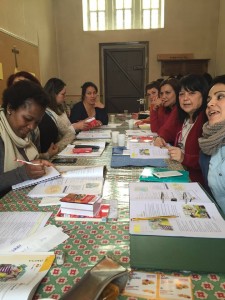 Native speakers have volunteered to help recently-arrived migrants to learn a language that is necessary for their social and educational inclusion in Luxembourg, as well as in the job market.
Every Wednesday from 10.30 to 11:30 at Limpertsberg parish premises. And every Sunday from 09.15 to 11.30 at the Franciscans convent in rue Gaston Diderich.
---
Catching up lessons for school children
 Classes are also given by volunteers who aim to tailor the classes to the specific needs of each child and give them a head start for starting at a new school. Every Saturday at the Limperstberg parish premises
---
Food bank
We keep a food bank of non-perishable foods at Limpertsberg parish premises: oil, pulses, milk, canned vegetables, pasta, biscuits, tinned meat and fish, soups, etc. The food bank is kept stocked thanks to donations from volunteers and collections at various churches. The food bank is always in demand and needs to be restocked regularly with new products. People can bring food to donate to the parish centre, leave it at the Sunday masses held at Saint Alphonse (11:15) or at the church of the Spanish speaking community in Belair (11:30). Pecuniary donations can also be specifically earmarked for the purchase of food.
---
Bank of clothes, toys…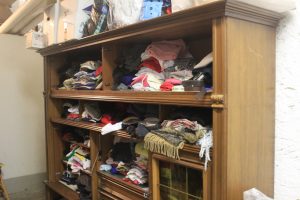 We all have objects we no longer use. Clothing, toys for instance. Our bank helps many emigrants. Do not hesitate contacting us if there is something that you do not need and think that could be useful to us.
---
Integration, information and fundraising events
We hold awareness-raising events to publicise our association among migrants in need, boost membership numbers, grow our volunteer base and raise funds. Migrants and volunteers work alongside each other in organising and sharing out tasks, from attending to visitors, organising activities for children, preparing and serving food, to promoting the association.
Recent events: 17 January, World day of Migrants and Refugees, and 11-13 March, Migrations, Culture and Citizenship Festival.