Thanks to all your support we have been able to make Carmelo's dream come true.
Carmelo lodged during winter in Findel and when ending the winter campaign had to stay in the street. Like many others, but the difference been that he is 72 years old and has dementia.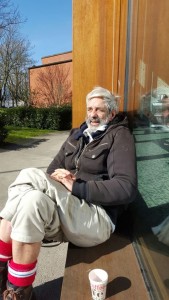 It was difficult to care for him. The spanish consulate couldn't as he refused to voluntarily visit its premises. The social assistance of Luxembourg treated his case as that of a person without a fixed dwelling and as such, only entitled to be assisted during the winter period when Findel was his fixed address.
From 31/03 to 04/04 he suffered extreme hardship and was disoriented and depressed. On 04/04 we could finance his flight to Mayorca.